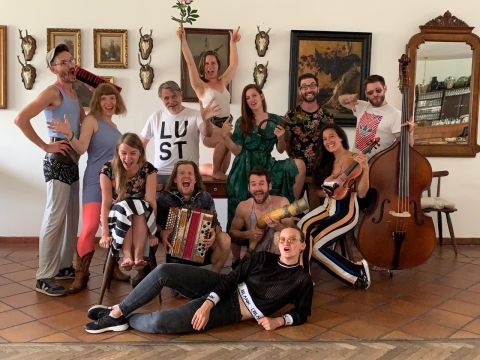 Volxfest is a proposal for a new ritual, a universal folk dance. It manifests as a folk dance ball, embedded in ritual practices. The Volxfest takes the form of a permanent event, party or celebration, bringing a strong social dimension to the work, a sense of togetherness in which the audience also takes an active role and becomes part of the performative whole.
The project spans a long period of time and encompasses various formats that achieve local continuity, anchorage and audience through participative, preparatory events: workshops (on self-empowerment, national identity and trauma, universal folk dance, exploration of customs and traditions, celebrations as letting go) and devotion), salon and Stammtisch of home feelings (workshop-like events to deal with home-based relationship through discursive, musical and dance elements), Volxfest and ball of home feelings (Volxfest as rural, the ball as urban version), occasion-related celebrations and events (national holiday, festivals ) and "folktrance party" (trance and universal folk dance). The concrete contents are redefined and artistically shaped with the respective partners and regions.
The specific contents are redefined and artistically curated with the respective partners and regions.
Volxfest events in the context of Stadtlabor "Musik findet Stadt":
Performance Volxfest with Simon Mayer, Teresa Distlberger and Mario Sinnhofer aka Touched at the Stadtlabor kick-off in Simmering
September 21, 2019, Gasthaus Landbier, Simmering
---
Performance Volxfest with Robert Steijn and Mario Sinnhofer aka Touched at the Stadtlabor kick-off in Brigittenau
September 28, 2019, Brigittenauer Markt
---
Performance Volxfest with Mario Sinnhofer aka Touched and Manuel Wagner at the market Stadtlabor Brigittenau and Simmering
October 12, 2019, in public places in Brigittenau and Simmering
---
Salon of Home Feelings
On National Day we invite you to explore your own relationship with Austria, to another homeland or to be at home. Anger, shame, love, homesickness and more - all feelings are welcome. Well-groomed Viennese salon culture is reinterpreted in a cozy ambience: Here, tradition meets contemporary expression, performance with apple strudel, hearty dancing with meditation and so many inspirational input with finely detailed discussions.
The Salon of Home Feelings is open to people of all backgrounds, sexes, sexual (non-) orientation, living in any (non-) relationship form and with any form of physical particularity.
October 26, 2019, Aktionsradius Augarten
---
Workshop "At home in me"Volxfest workshop with dance, music and talks
Are you curious about the complexity that opens up when you trace your own homeland? Have you always wanted to explore what dance, song and home have to do with each other? Based on the home in one's own body and the exploration of different spaces, Simon Mayer and Teresa Distelberger are organizing two workshop evenings. Inspirational impulses, crazy shoe-plate improvisations, the search for a universal folk dance and discussions about being at home provide for inner and outer movement.
October 10 and 17, 2019, Brigittenau
---
Workshop "Tanzboden"
Do you like to dance and sing? Want to learn more about ritual dances, folk dances and songs? Would you like to bring the folk dances from your home country and share them with others? Have you always wanted to explore what dance, song and home have to do with each other? If any of these questions apply to you, then you're in the right place at this workshop. The search for the universal folk dance leads us past the Schuhplattler, to circle and couple dances, Gstanzlsingen, yodels and international dances and songs - or to those you bring with you.
October 29, 2019, Simmeringer Amtshaus
Tour Dates
Date
City
Venue
Country
15.11.2019
Vienna
Stadtlabor Brigittenau
Austria
08.11.2019
Vienna
Stadtlabor Brigittenau
Austria
26.10.2019
Vienna
Salon of Home Feelings
Austria
24.10.2019 - 31.10.2019
Vienna
Schräge Töne
Austria
17.10.2019
Vienna
Stadtlabor Brigittenau
Austria

Workshop "At home in me"

15.10.2019 - 29.10.2019
Vienna
Tanzboden
Austria
12.10.2019
Vienna
Stadtlabor Simmering
Austria
10.10.2019
Vienna
Stadtlabor Brigittenau
Austria

Workshop "At home in me"

28.09.2019
Vienna
Stadtlabor Brigittenau
Austria
21.09.2019
Vienna
Stadtlabor Simmering
Austria