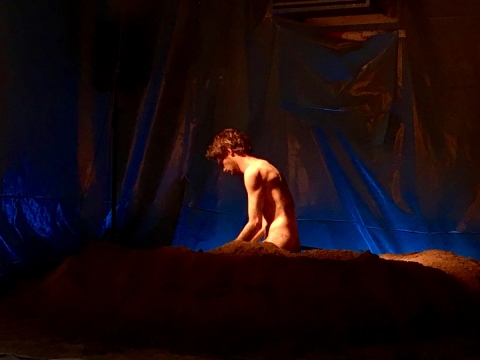 After having worked together for "Sons of Sissy", "Requiem" is the second collaboration by choreographer Simon Mayer and jazz/folk musician and composer Matteo Haitzmann.
Their interests meet in their shared preoccupation with death and ceremonies accompanying this final step in life. They are fascinated by the bombastic composition of a requiem mass but are also trying to appreciate the very intimate side of death and dying. What could a contemporary requiem look and sound like?

The foundation of Simon Mayer's work and it's process is always a strong "compographic" approach, that combines movement, the sounds it makes and actual music. And the coreography also takes a vital part in the acoustic experience.
Also for this new work, Simon and Matteo will take this approach into the studio, while sticking to the proprium or structure of a classical requiem and investigating in which direction this will lead them. Beside coreography, movement, music and sound, the costumes and light/technic are important elements, that will contribute to the optic, but also to the acoustic "bigger picture".
Their research will not be limited to the western tradition of the requiem, but look into practices of other cultures and aim at creating a universal ritual of letting go. The performance will be a requiem composed for the men and women that were and are opressed by homophobic societies all over the world. Emotions like anger and grief are certainly a motor driving this work, but Matteo and Simon also want to celebrate existence. In paradisum, would there be such dichotomies like men and women, gay and straight, devil and god?
A very central dramaturgic element of this"Requiem" will be earth – also placed on the stage - serving as the tool to transform and let go of the old. Overcoming prejudices and categories that devide people.
This work holistic and wholesome creative process, to free from old forms and heal a legacy, that is still working in many of us.
Artistic director / Compography: Simon Mayer
Performer: Matteo Haitzmann
Live Sound: Sixtus Preiss
Idea & Concept: Simon Mayer, Matteo Haitzmann
Music & Sound: Matteo Haitzmann, Sixtus Preiss
Dramaturgy: Robert Steijn
Light Design: Sabine Wiesenbauer
Costumes / Set Design: Romain Brau
Research: Manuel Wagner
Production: Kopf hoch/Anna Erb
A coproduction by Kopf hoch and brut Wien, supported by Kulturabteilung der Stadt Wien and BKA Kunst
Thanks to Lukas Froschauer, MA48, Gessnerallee Zürich, Griessnerstadl, Arbeitsplatz Wien
---
Tour Dates
Date
City
Venue
Country
08.12.2018
Vienna
brut im Odeon
Austria
07.12.2018
Vienna
brut im Odeon
Austria
05.12.2018
Vienna
brut im Odeon
Austria