A costume and folk dance ball of a special kind.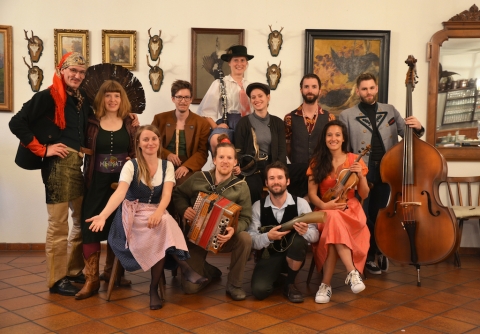 Home-bound and cosmopolitan, tradition and update, down-to-earth and experimental - apparent contradictions are invited to dance at Volxfest.
On 6th July 2019, the team of artists under the direction of Teresa Distelberger and Simon Mayer invites you to a very special "Volxfest". The host of this adventure celebration is the legendary Jägerwirt. If you want to get in the mood for the party, you have the chance to dance, sing, and talk to the Volxfest team in the afternoon from 12:00 onwards.
The artists of the Volxfest project spend several weeks in the region from May to July to research local customs, traditions and rituals and to get in touch with local people and traditional groups to create this festival together. During this time you can also visit various dance, costume and conversation workshops of the Volxfestteams on the topics of tradition, customs today and Heimatverbundenheit.
The Volxfest is a celebration. A celebration that celebrates folk art as a symbol of free development and as a creative expression of the people. A day and an evening, created by Volxfest artists together with artists and traditional groups from the region and the audience.
The Volxfest loads in a playful way to experience its own relation to local, national and global roots. Here meet people and perspectives that might otherwise not meet. Old rituals are rediscovered in the light of a global consciousness.
The Volxfest welcomes people of all origins, all sexes, all sexual (non-) orientations, living in every (non-) relationship form and with every form of physical particularity. It is normal to be different!
The events in the apron offer many opportunities to get a taste of things:
Round tables:
Three evenings when the audience is invited to meet the Volxfest team, chat, dance together, make music, and get together for the Volxfest on July 6th. Every regular's table will revolve around a special topic.
Dates: 3.5., 17.5., 15.6., Each from 19 clock
Location: Jägerwirt in Au on the Danube
---
Dance floor (workshop)
Artistic Direction: Simon Mayer / Katharina Maier
The dance floor workshop will be about the joy of dancing and singing together. We will learn existing folk dances, Schuhplattler and songs, practice and playfully invent new ones. We investigate the question of where the folk dance originated and try to get closer to this origin with various experiments. Elements from folk dances and songs from other cultures and hip hop are also included. This afternoon is for those who like to sing, sing or learn to dance, as well as for those who like to experiment, for those who define themselves as non-dancers / singers or who have nothing to do with folk dancing and singing. Everyone is welcome.
When: 18.5. 10: 00-17: 00
Registration: mairhofer@fdr.at
---
Traditional workshop with root soup (workshop)
Artistic Direction: Teresa Distelberger / Mario Sinnhofer aka Touched
In cooperation with the gold hood and costume groups of the district Perg
Costumes are often seen as uniform clothing of a particular region. But what does it mean to find an individual version of one's own costume in which other roots and affiliations also become visible? What could a gold dome look like that expresses inner wealth beyond money and gold? What is possible if apparently opposing styles are unfamiliar but combined with a fine sense? Traditional-traditional, urban, oblique, transgender, multicultural mixed - everything is possible and will be tried out right away. This playful approach to one's own concept of home is deposited with subtle, deep-acting interview techniques. Finding unsuspected nutrients in your own home soil is even possible not unlikely. Even - or maybe even exactly - when the horror comes at the word "home" itself.
When: 15.6. 10:00 - 18:00
Registration: mairhofer@fdr.at
Artistic Director: Simon Mayer, Teresa Distelberger
Performance, research, audience interaction and creative collaboration:
Mario Sinnhofer aka Touched, Manuel Wagner, Patric Redl, Katharina Frieda Meier, Agnes Distelberger, Farah Deen, Valentin Alfery, Annegret Schalke, Robert Steijn, Sophie Rastl, Simon Mayer, Teresa Distelberger
Guest artists and groups: Schuachplattler Menscha Ried, Ledarsoinbuam Ried, gold-dome and costume groups of the Perg district, Claudio Prima
Dramaturgy Counseling: Robert Steijn
Immersive stage design: Mario Sinnhofer aka Touched, Simon Mayer
Light: Annegret Schalke
Sound: Lukas Froschauer
Music/Band: Asgeiger, Volxfest Band, Banda Adriatica
Production: Kopf hoch / Sophie Rastl & Martina Knoll, Hiros
Workshop team: Mario Sinnhofer aka Touched, Katharina Frieda Meier, Agnes Distelberger, Simon Mayer, Teresa Distelberger
A co-production of Kopf hoch & Festival der Regionen
With the kind support of the Cultural Department of the City of Vienna, the Federal Chancellery of Austria and the Flemish Government
Thanks to: Impulstanz Festival, Forschungsfeld Heimatgefühle, Arbeitsplatz Wien, Jägerwirt
Photos: Niko Havranek, Franzi Kreis, Sophie Rastl, Shao Hui He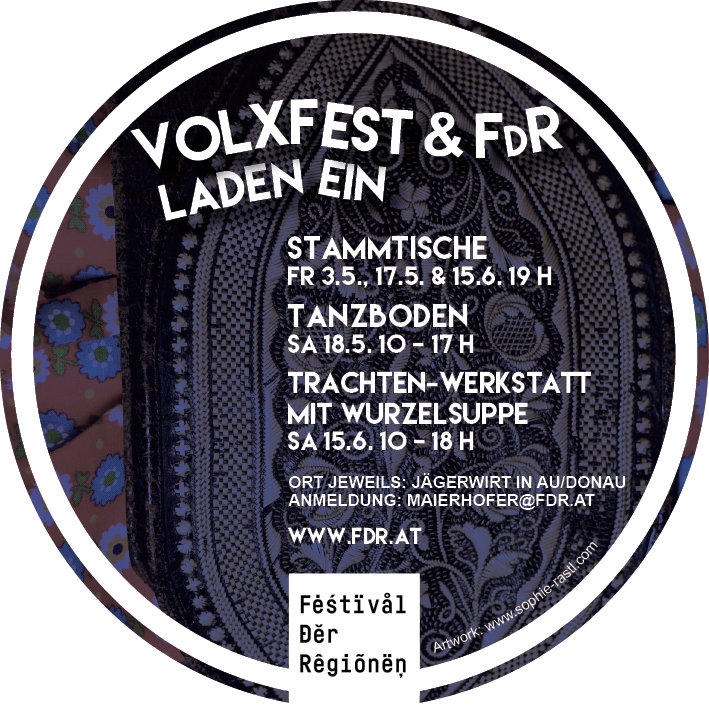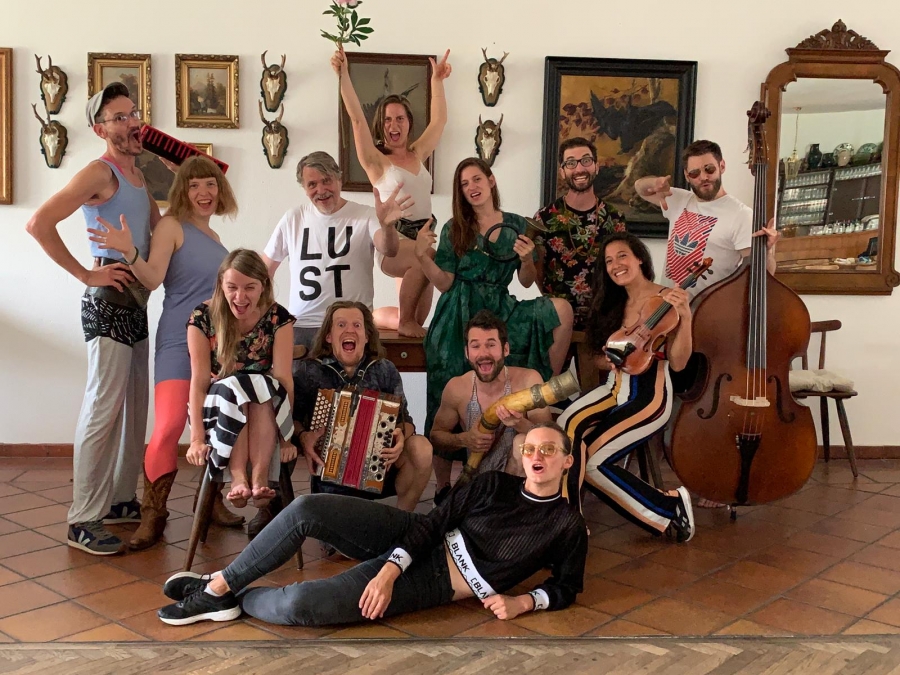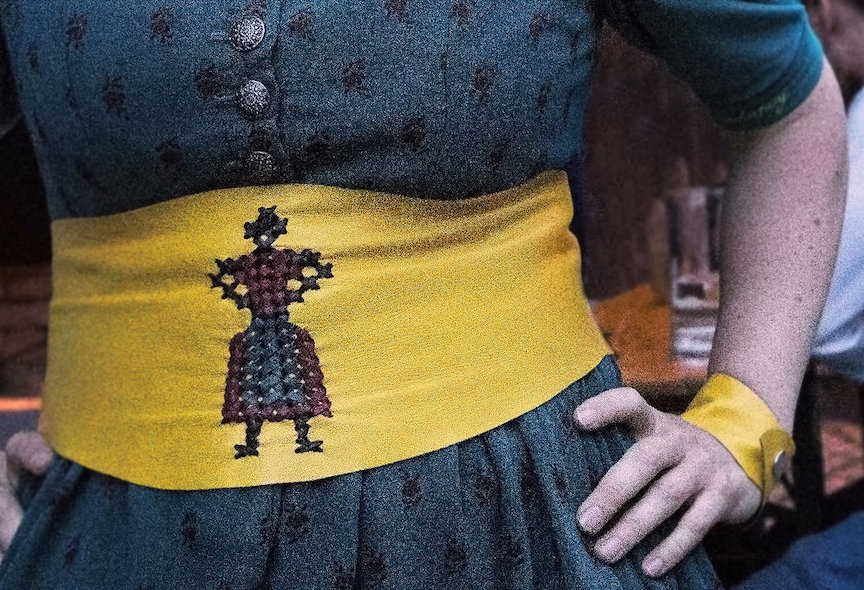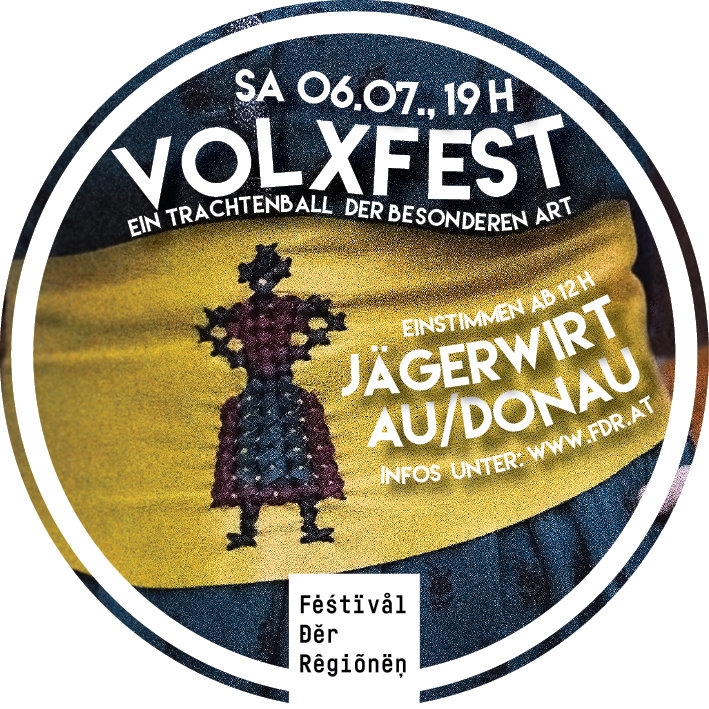 ---
Performance Date
Date
City
Venue
Country
06.07.2019
Au an der Donau
Jägerwirt
Austria

Festival der Regionen

More information